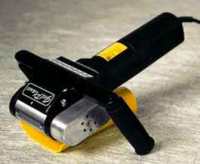 Contact us NOW for a free demonstration video!!
The removal of the gelcoat is the first stage of any Osmosis blistering treatment and peeling is widely accepted as the most cost effective system for guaranteeing an assured repair. The GelPlane has well documented advantages of speed, economy and quality of finish but further, with the dust extraction system the workplace remains clean. GelPlane International provides the product not the peeling service allowing the yard to benefit from convenient work scheduling, quality control and the profitability of working in house.
The GelPlane has many other uses apart from gelcoat removal, for instance the bulk removal of laminate for scarfing in repairs, and in addition provides the opportunity for offsite peeling contracts.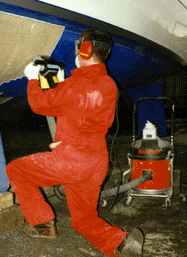 The hand held GelPlane provides a convenient and controllable method of gelcoat removal. With the vacuum unit it is self contained and requires only an electrical supply for operation. The depth of cut is set by readily adjustable shoulders which position the blades relative to the hull. The blades are standard tungsten carbide slip design and available from a variety of manufacturers. The Bosch drum is driven by an AEG motor so all of the spare parts are locally available.
The GelPlane will peel as easily on concave curves as on convex and is versatile enough to cut over spray rails around skin fittings and between bilge keels. An experienced operator can peel up to 90 square feet per hour without needing to remove the antifouling first. The GelPlane carries the CE mark conforming with European Essential Health and Safety requirements.
The GelPlane is currently available from our worldwide distributors. The machine is supplied complete with a comprehensive Operating and Maintenance manual, tool set and sufficient spares to peel your first 30 foot boat.
We have produced a free demonstration video that should leave you in no doubt as to the machines efficiency, if you would like to receive a copy or if you have any further queries then please do not hesitate to contact us.