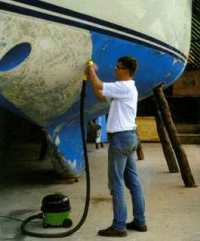 Use the 'ProScraper' and avoid breathing dust. It is comfortable and easy to use, you will save time and keep the workplace clean. You simply connect the hollow scraper to your vacuum cleaner and enjoy dust free scraping. This efficient plastic scraper is ideal for removing anti fouling, paints and varnishes without creating a mess.
Although designed specifically for the marine industry the 'ProScraper' has many uses in the building and D.I.Y. trade. From scraping sash windows to removing artex ceilings the dust control is invaluable.
The quality scraper has a long lasting tungsten carbide blade and is supplied with a universal hose connector. Spare blades are offered in blister packs with the scraper.
The 'ProScraper' has an RRP of £23.29 ex V.A.T. From quality Yacht Chandlers and tool suppliers, for your local stockist contact us.
Enquiries are welcomed from reputable wholesalers and retailers.